American Health Source (AHS) has long been a contributor to the growth and development of American health care through its educational programs and publishing efforts. American Health Source has now moved to another level by joining with the American Medical Massage Association, the American Manual Medicine Association, the American Institute of Naturopathic Medicine, the National Association for Therapeutic Exercise, the National Governing Alliance of Allied Health Professionals, and the National Governing Council Health and Education Partnership in the formation of an association management consortium.

The word consortium originates with the Latin word for fellowship and the definition of a consortium is "an association or grouping of institutions, businesses, or organizations, usually set up for a common purpose that would be beyond the capabilities of a single member of the group."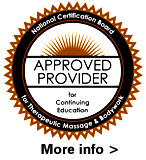 The national trade associations combined within the AHS consortium serve the needs of a diverse family of health care providers and educators in the areas of alternative, complementary, conventional, and allied health care and includes members from the professional disciplines of allied health education, medical assisting, nursing, medical massage, medical acupuncture, holistic health care, personal training, naturopathy and naprapathy.
The AHS Consortium of national trade associations has joined together to provide outstanding member benefits including: Education, Testing and Credentialing - Professional Liability Insurance - Personal Health Insurance - Business Development and Financial Products.
Please click on an association affiliate below to learn more about the amazing member benefits an AHS association can bring to you!